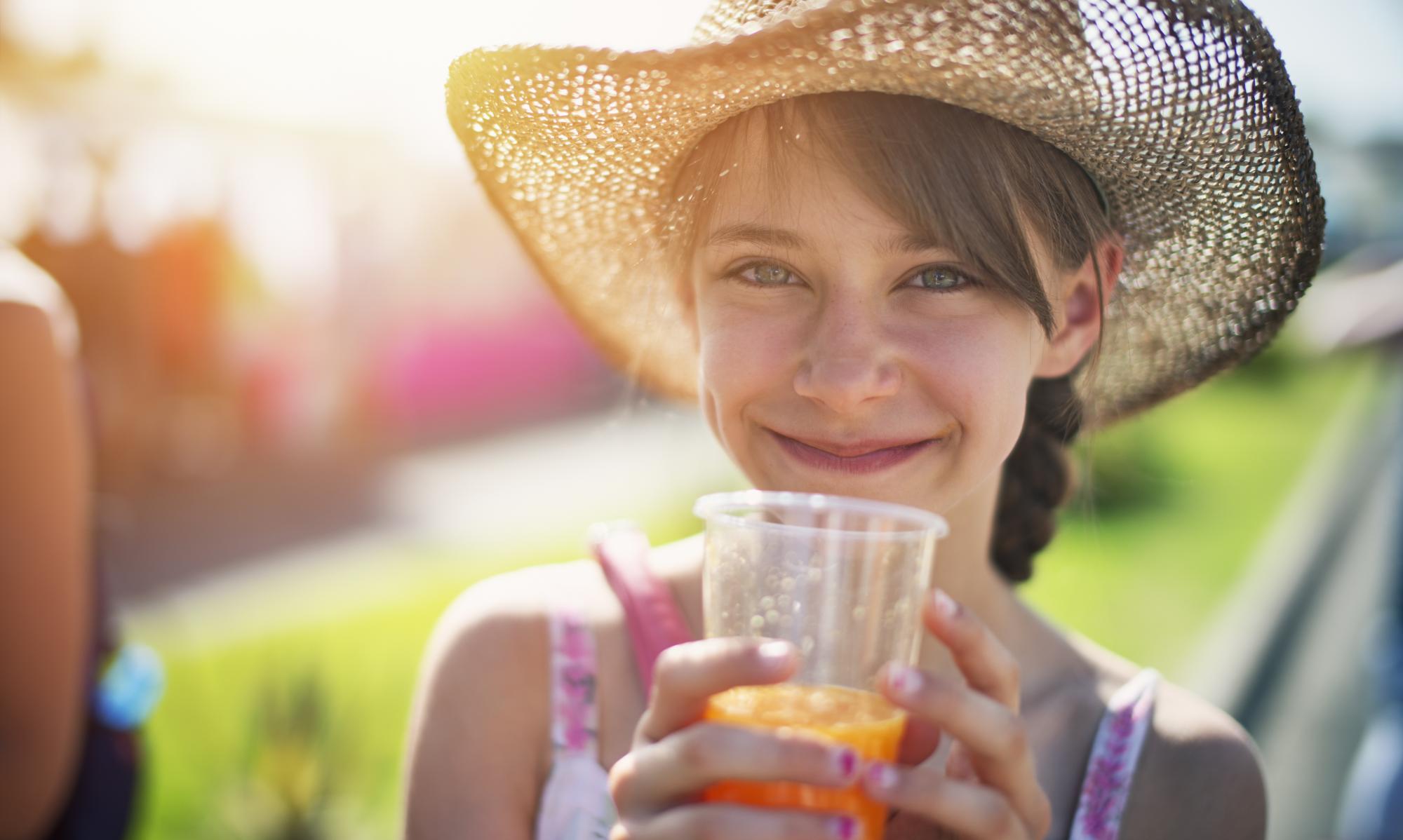 Chapter 10
From juice packer to consumer
In this chapter you will read about:
Distribution of orange juice from the juice packer to the retailer. 

How packaged orange juice is handled in the distribution chain to point-of-sale. 

Primary, secondary and tertiary packaging and distribution units. 

How product handling and distribution affect direct product profitability.
Who consumes what types of orange juice.
When and where orange juice is consumed.
Some of the major reasons why people drink orange juice.
The composition of orange nectars and still drinks. 
Summary 

Distribution channels are increasing in complexity as consumers demand access to products when they want them and where they want them. Retailers are responding by operating a variety of outlets that sell juice products. Online food shopping is changing the way consumers buy their groceries, putting new demands on packaging performance. 
Efficiency in distribution is key as retailers build their capabilities to monitor and track products, reduce required stock levels and ensure 24/7 product availability to consumers. 

The packaging system is comprised of primary packaging (container for the juice product), secondary packaging (several primary packages bundled together either in a multipack sales unit and/or distribution unit) and tertiary packaging (often pallets or roll containers used for transporting several secondary packages together). 

Retailers monitor profitability by analyzing individual products using direct product profitability (DPP). They track overall profitability by analyzing data to understand the overall cost-to-serve. This helps them measure whether they have the right mix of distribution channels, store formats, categories and products. 

The most popular fruit drink
In the US, more than 65% of adults consume orange juice. In Europe, 40% of total juice volume consumed is orange juice. Although juice made from concentrate packed for distribution at ambient temperature remains the most popular orange juice product in Europe, NFC and chilled juices have seen significant growth and represent about a quarter of packaged juice in the region.
Orange juice is regarded as a healthy drink. It is primarily consumed in the home as part of breakfast and purchased in large-size packages in retail. But new habits of having breakfast out-of-home, or skipping it altogether, are reducing this orange juice usage. Industry increasingly proposes orange juice also as a healthy snack for on-the-go consumption for sales in convenience stores. In US, however, this has not prevented a significant decline in orange juice consumption. A recent international survey highlights varying consumption patterns in some developing markets. In Brazil, consumers enjoy orange juice with their meals and in China fruit juices are often consumed in the office and at school.
Orange juices are a wholesome alternative to many other beverages. They represent the fresh taste of oranges in a convenient form and contribute to the recommended daily intake of fruit and vegetables. "Low sugar juices" made with NFC is a new category offering the health-benefits of orange juice with fewer calories.
A significant volume of orange juice concentrate is used for production of beverages with an orange flavour, such as nectars and still drinks.
10.1
 Distribution of product to retailer
Juice distribution from the juice packer to the retailer is becoming increasingly complex. Given that consumers expect to find their favourite drink when and where they need it, retailers have expanded their channels to market. Physical stores come in many formats – forecourt sales outlets like petrol stations, convenience stores, supermarkets, hypermarkets and discounters. Every major retailer operates many formats. In addition, the growth of the online channel means that consumers can receive products directly at home or collect them at designated pick-up points. Digitalization and automation help to track and trace products to ensure they are available for consumers when and where they want them.
Figure 10.1 illustrates the many different routes that packaged orange juice takes from the juice packer to the final consumer.
Orange juice is filled into primary packaging at the juice packer. Primary packages are then grouped into secondary packaging. The main function of secondary packaging is to protect the filled juice packages from damages during transport and handling. If the secondary packaging is also a sales unit or multipack it needs to present the product in the best way at the point-of-sale. Tertiary packaging like pallets, crates, totes or roll-containers are used for efficient transport of products from juice producer to points-of sale. Most often, these pass through a distribution centre to be split and repacked into retail store units or consumer units.
In the case of chilled juice, the secondary package is frequently plastic crates or roll containers. If the package is returnable, a reverse stream of empty packages occurs.
Distribution chains can be very complex and diverse. Below are three examples of distribution chains.
10.1.1 
Delivery to super/hypermarkets and discounters
Depending on the category under which a certain product is displayed in the store, shelf rotation may be high or low. In general, the larger store formats like supermarkets, hypermarkets and discounters have a higher turnover in store. When the distribution centre receives the products from the juice packer, they will deliver full or half pallets directly to the larger retail stores. At the distribution centre, these products require limited reworking before being dispatched by truck to the store.
The juice category consists of different types of products where the big-selling items (like orange juice in many countries) are replenished daily in the larger stores. The store keeps track of inventory at all times to avoid running out of stock. The distribution centre will very often deliver the ordered products on the same day or the day after.
The larger stores stock a broad range of juice products and here you will find fruit juices in different sizes and as multipacks.
10.1.2
 Delivery to convenience stores
Convenience stores have limited product display space and stock a more limited range. They cannot manage products on pallets. This means that the individual distribution units need to be transported. The distribution centre will break the pallet and sort boxes to be shipped to different convenience store locations. Convenience stores are very often situated in cities, where reduced accessibility to trucks results in the use of smaller vehicles. The convenience store requests smaller size units and more portion pack sizes.
10.1.3
 Online delivery
For online delivery, products need to packed into a consumer basket. A consumer places an online order that is transferred to a distribution centre set up to manage consumer orders. If home delivery is selected, the online retailer will have to pack and dispatch the order to meet the time slot agreed with the consumer.
If the consumer wants to pick up the products from a designated pick-up point, the products must be packed and shipped to be ready when the consumer arrives to pick them up.
Products are unpacked from the secondary packaging already at the distribution centre, and then repacked into a new secondary unit. This could be a plastic bag, a paper bag or a box made from corrugated board. The juice package is then transported with any other items that the consumer has ordered.
Consumers appreciate the convenience and time saving involved in having products picked and packed for them.
The online channel reduces the number of times products need to be handled and transported.
In a more digitally connected world, the development of digital solutions and automation give consumers access to new products through cross-border trading. This means that new flavours and new products will reach a broader consumer audience via online platforms. In fact, the range provided in the online channel can be infinite since there is no physical shelf that puts constraints on the number of products a consumer can choose from.
10.2 
Orange juice at the retailer
Because of its importance to the consumer, orange juice is one of the more important products for the retailer to keep in stock. In many countries, fruit juice is distributed both chilled and at ambient temperature. This can make it difficult for the retailer to display juice as one category and for the consumer to make a purchase decision.
Different types of stores

Hypermarket
A very large self-service store that combines a supermarket and a department store. It sells both food products and general merchandise, such as clothes, hardware and electrical goods.

Supermarket
A large self-service store with a wide range of food products and some household goods.

Discounter
A self-service store with a limited choice of grocery or other products, sold at lower prices than at the supermarket. Goods are often presented in their transport packaging on pallets.

Convenience store or C-store
Small store selling a selection of foods and everyday items. Easy access location and long opening hours. Charges higher prices than at the supermarket.   
10.2.1
Distribution units
In general, juice distributed at ambient temperature comprises one-way packaging systems and juice distributed chilled comprises returnable systems. This mainly reflects the shorter shelf life of chilled juice and the established distribution systems that exist in some countries.
One-way secondary packaging mainly made from corrugated board or plastic film (see Figure 10.2) can function as a distribution unit, and is sometimes sold as a multipack in store.
Corrugated board offers the best protection for the packages inside, either as a fully closed box or as an open tray. Distribution units in film are not so commonly used for juice. Sales units intended for consumers who buy more than one package at a time include board- wrapped units, sleeves and film-wrapped units. These types of multipacks are more common for portion pack sizes up to 500 ml. The choice here depends on the purpose of the unit – whether it is simply to sell a larger quantity of packages in one unit or whether it is also used to enhance the image of the juice product.
Secondary packaging includes plastic crates in various shapes and sizes, and roll containers (see Figure 10.3). In some countries, roll containers and crates are used all the way from the juice packer to the chilled sector in the store. In other countries, the units are unloaded when they arrive at the store for storage and display purposes.
Pallets of various types of material and sizes form the main tertiary unit used for transportation of cardboard units, film-wrapped units and crates (see Figure 10.4). The most common pallets used are 800x1,200 mm, 1,000x1,200 mm and 40x48". Half pallets (800x600 mm) and quarter pallets (400x600 mm) are also used. The roll container is another type of tertiary unit.
10.2.2 
Handling at the retailer
The retailer handles full pallets, roll containers, secondary units (trays) and individual packages. For high volume or promotional items, the most efficient unit is a full pallet. With the average-sized retailer it is more common to handle secondary units that are placed directly onto shelves or opened to allow individual packages to be stacked onto shelves. This is referred to as shelf-ready packaging. Handling at the retailer can be explained with the help of Figure 10.5.
1-  The delivery truck unloads roll containers or pallets and places them in the shop's storage area. 

2-  The delivery is checked against the delivery document to confirm that the retailer has received what it ordered. 

3-  A roll container may hold shelf-stable products destined for different departments of the store (though chilled products are normally packed separately). Therefore products have to be sorted according to department. 

4-  Products are then transported out to the display area 

5- Where they are put on shelves.
6- Transport packaging (mainly for shelf-stable products) is removed and separated for later recycling.
7- The final step at the retailer is the checkout.
DPP: Direct product profitability and cost-to-serve
During the handling steps from juice producer to consumer, a product that is easy to handle and efficient to transport has an advantage because this will translate into a higher margin for the retailer. This is what DPP measures. The gross margin is adjusted for all costs added by the product, including transport, occupied shelf space, time on the shelf and product handling (see Figure 10.6).
The variables that affect DPP cover the package itself and, more importantly, the secondary package (for example trays and boxes), which are the units handled up to the final placement of product on the retailer shelf. When on the shelf, the product turnover rate and occupancy cost will also affect the DPP.
A product with a good DPP will be attractive to the retailer. Even if the gross margin is satisfactory for the product itself, the DPP will be lower if the direct product cost cannot be optimized. It is important to have an optimal package and distribution unit, as well as knowledge of how to handle them, in order to minimize the direct product costs (DPC). It is also important that the package is designed to utilize the shelf space in the best possible way. As retailers operate many different channels – both physical stores and online operations – it is critical to have the right range for shoppers. This means that the analysis methods for optimizing profitability are becoming increasingly sophisticated, with cost-to-serve analysis being especially important. This means analyzing vast amounts of data to plan the right mix of outlets, prices and product range.
10.3 The orange juice consumer
Orange juice is a natural part of the daily diet of many people in the industrialized world. In the US, more than 65% of all adults consume orange juice. It dominates the juice market with a 55% market share of packaged juices, far ahead of mixed fruit juices and apple juice, which have a 12% share each.
Orange is also the leading fruit juice flavour among European consumers, accounting for some 40% of the total packaged juice volume sold in retail in 2016. (See Figure 10.7.) Apple comes second with almost a quarter of the overall volume, thanks to its popularity in Germany, which is Europe's largest juice market. Among other popular flavours are tropical fruits and tropical blends. Blending offers various benefits, satisfying consumer demand for new innovative juice flavours and giving producers scope to optimize their raw material costs.
In other regions, such as South America and Asia-Pacific, orange juice is also the most popular flavour, accounting for about half of packaged juice volume.
10.3.1 
Regional preferences for juice categories 
Most consumers associate the term "juice" with orange juice, mentioning it as the first flavour when asked. Orange juice fulfils the expectations of healthy and natural that consumers have of a 100% fruit juice. Many different brands, qualities and package formats exist for juices today. This creates dynamism in the segment but may also lead to some consumer confusion. It can be difficult to know the difference between juices and juice drinks, chilled storage and storage at ambient temperature, and not-from-concentrate and reconstituted juice – especially for busy shoppers.
Total fruit juice consumption is in decline across the mature markets of North America and Europe. This trend effects also orange juice. Orange juice consumption peaked in the US in 2001 and in around 2008 in Europe, where markets in Eastern Europe underpinned overall growth until the financial crisis. Figure 10.8 shows the consumption of packaged orange juice sold in retail in Western Europe and North America from 2006 to 2016.
The decrease in orange juice utilization in the US is presented in Figure 10.9 using "disappearance data", or net utilization of bulk concentrate and NFC, as estimated by Florida Department of Citrus.
Both during the upward and declining trends in the US orange juice market there has been a continuous shift in consumer preference regarding the main orange juice categories. NFC has grown steadily to a share of more than 60% today, while orange juice made from concentrate has declined slowly over the last decade to about 35%. Sales of frozen concentrate have declined from a once-dominant position to less than 5% of retail sales based on single-strength juice volumes. The relative shares are shown in Figure 10.10, which is based on Nielsen statistics for all retail outlets. Orange juice in the US is mostly distributed chilled (4°C).
NFC is also gaining market share in Europe, though reconstituted orange juice predominates with a market share in excess of 70%. NFC's growth, in volume terms too, is despite it retailing for up to twice the price of juice made from concentrate. Consumers regard NFC as higher-quality and less processed, and appear willing to pay a premium for its perceived superior quality. NFC currently accounts for more than 25% of orange juice consumption in Europe.
Likewise, chilled orange juice is also gaining popularity and now accounts for more than 20% of total juice consumed in Europe. The frequent presence of NFC in the chilled segment reinforces the perception among consumers that chilled products are of higher quality. However, ambient NFC orange juice is commonly found in the premium juice category, for example in France.
Concentrate for home dilution, aseptically packed, is found in some markets in northern Europe but has only a minor market share. Overall, the most common orange juice in Europe is ready-to-drink juice made from concentrate distributed at ambient temperature.
In South and Central America, where fresh fruit is available at affordable prices, home-squeezed orange juice is the most popular way to drink juice. Purchased beverages are typically juice drinks. In contrast to Europe, there is a close correlation between income levels and fruit content of purchased beverages: as income increases consumers shift towards nectar and then on to 100% juice. Packaged NFC offers convenience and has gained popularity in Brazil in the last few years. The rapid growth of the domestic NFC market gives Brazil's juice processors an opportunity to partly offset the decrease in juice exports to established markets.
In the Asia-Pacific region, consumer behaviour differs between mature and developing markets. In mature markets, such as Japan and Australia, consumers prefer to buy 100% orange juice, whereas in emerging markets purchased beverages are predominantly low fruit-content juice drinks. Fresh fruit is usually available at low cost. Also, a trend exists in these markets to move to higher fruit content as disposable income increases. In major urban areas of China, affluent consumers are creating a market for 100% orange juice. Moreover, the expansion of e-commerce across China spurs new beverage habits as shoppers gain access to a large variety of juices and nectars from imported as well as domestic brands.
10.3.2
 Why people drink orange juice
A recent international survey confirmed that consumers above all find 100% fruit juices healthy, natural and tasty. These are also the key reasons why people drink orange juice. See the fact box for further details about the study.
Health and vitamins
Consumers recognize orange juice as an important source of vitamin C and a highly natural and "true" product that closely resembles the fresh fruit. This is often in contrast to still drinks and carbonates, where high added sugar content is an area of concern. Moreover, among other nutrients, orange juice contains folic acid, which may be important for pregnant women as it helps to reduce the risk of certain birth defects. Antioxidants and other constituents beneficial to health are a good reason for the elderly to continue consuming orange juice. Indeed, consumption is increasing within this age group in the US.
In addition to nutrients naturally present in orange juice, orange juice products enriched with various vitamins and minerals are multiplying on supermarket shelves. Calcium fortification can be important for consumers who have few dairy products in their diet. Plant sterols added to orange juice can help to reduce cholesterol levels.
Natural and tasty
Orange juice can provide the same benefits as eating a fresh orange, without being messy to consume. Consumers see orange juice as an easy way to get their daily servings of fruit and vegetable – one of the "five a day".
Orange juice contains no additives; it is pure and natural. Juices with added fruit cells are perceived as tasting similar to fresh fruit. Freshly squeezed and NFC have properties which are even closer to the original fruit.
A nourishing alternative to other drinks
As a refreshment drink, juice is definitely seen as healthier than carbonated soft drinks and it contains more nutritional value than mineral water. Because orange juices are closely governed by regulations, they are preferred to several other beverage types. On social occasions, orange juice is often served as an alternative to alcoholic drinks.
Good for children
Parents perceive pure juice as a healthy alternative to carbonated soft drinks for their children. Though most mothers may consume juice themselves, children's welfare is an important purchase driver. In fact, orange juice has a much higher market penetration among families with children than among single adults.
Habits
In many markets the traditional breakfast includes a glass of juice, especially orange juice. Hence, it is often purchased and consumed on a routine basis.
10.3.2
 When and where orange juice is consumed
In established juice markets like the US and Europe, orange juice is very much a "home" product purchased in normal grocery outlets. It is closely linked to the breakfast meal. Often this is out of habit – a glass of orange juice is a breakfast table mainstay. Nevertheless, many consumers feel that orange juice gives them a welcome "energy kick" in the morning.
In the US, however, there is a strong trend away from eating a traditional breakfast at home to a quick grab "on-the-go" or no breakfast at all. Studies estimate that about 10% of Americans don't eat breakfast, and this figure is much higher among young people. A third of high school students say they skip breakfast. This change in eating habits has led to a significant decline in orange juice consumption in the US. The same trend applies in Europe.
Thus, the juice consumption occasion is shifting from breakfast towards mid-morning or as a snack between meals. Although orange juice is well suited to this occasion, smoothies are perceived as tastier and healthier than pure juices and are the preferred purchase. Moreover, the younger population (millennials) is eager to try new combinations and look for surprising taste sensations, as long as the food is natural.
In restaurants and bars, orange juice consumption is facing increasing competition from water. Despite usually lacking nutrients, flavoured or plain waters are seen as a healthier choice than fruit juices, especially by calorie-conscious patrons. Market data confirms that only some 14% of juices and nectars (all flavours) are consumed in restaurants and other food services in Europe. In-home consumption dominates at 82% and a mere 3% are purchased for on-the-go consumption (AIJN estimates for 2015).
A global look at juice habits
A large international survey about fruit juice consumption was carried out in 2016. A total of 7,000 consumers were interviewed, comprising 1,000 current and lapsed consumers of 100% fruit juice in each of seven countries: Brazil, China, Germany, Japan, Russia, the US and the UK.

Some of the findings were:

Orange is the most consumed flavour – Overall 70% of respondents replied that they usually drink orange juice. Rates were highest in the US and lowest in Japan, China and Russia.

Juice is tasty, natural and healthy – These juice attributes came top in 80-90% of replies in the UK, Germany and Russia. They are also the most important reasons for drinking juice in these countries.

Juice is consumed at home – 90-95% of users in all markets, except China (83% of users), usually drink juice at home.

Juice is consumed daily or every 2-3 days – 75% of juice users in the UK, Germany and Russia drink juice frequently, and on average 1.2 glasses per day.

Many juice consumers give up on juice – One third of respondents in the UK, Germany and Russia were lapsed consumers, meaning they had not drunk juice during the past three months.

Other research shows that one third of juice consumers in Europe have reduced their juice consumption; only 10% drink more.

Source: Tetra Pak
10.3.3
 Changes in consumption habits as a trigger for industry initiatives
Changing urban lifestyles have altered consumption patterns for orange juice and contributed to the reduction in orange juice drinking seen in North America and Europe since the early 2000s. The main reasons attributed to this decline are:
New eating habits
Breakfast skipping 

On-the-go drinks and meals 

Snacking 

Sugar and calorie intake in focus 

Smaller servings (for example, UK government recommendations of 150 ml portions) 

Other options to fulfil vitamins and nutrients needs (supplements, vitamin-waters) 

Shift to water
Affordability 

Lower spending on food due to economic recession 

Higher retail prices due to short supply of orange juice 

Industry has taken several steps to cater for the new consumer needs. They include making orange juice available in more outlet points such as convenience stores and petrol stations. A variety of smaller packaging sizes have been introduced, including "shots" corresponding to a "fruit portion". Other examples of new product development are "low sugar juices", made with NFC and offering the health benefits of orange juice with fewer calories. 

General concern about increased obesity and its effects on public health has instigated a debate on excess sugar intake in modern diets. Fingers are sometimes pointed at fruit juices, particularly orange juice, as one of the culprits. The European Fruit Juice Association (AIJN) has taken on the task of providing a counterweight to this debate, both when addressing consumers and health officials. Its measures include the creation of a database containing all available research on fruit juices, which offers scientific evidence of how fruit juice makes a positive contribution to a healthy diet. 

10.4
 Orange nectars and orange drinks
In many markets, a substantial share of orange juice concentrate is used in the production of other beverages with an orange flavour. The names and definitions of these beverages vary between markets, but the two main terms of reference are nectars and still drinks.
Fruit nectars usually have a juice content of 25-99% (50-99% for orange nectars in the EU), and beverages with a fruit juice content below 25% are generally called fruit drinks or still drinks.
In markets where nectars are popular, such as Germany and France, some consumers see nectars as a superior product to 100% juice. This is because the word "nectar" has highly positive connotations.
10.4.1
 Fruit nectars
Originally, nectars signified beverages from fruits that were too viscous to be consumed in a 100 % form, e.g. apricots, peaches and pears. Consequently, water and sugar were added to dilute the purée and make it more drinkable. Today, the term nectar is applied to fruit beverages with less than 100 % juice content, with basically only water and sugar being allowed as additives to the fruit juice product. The fruit juice used for nectar production may be as juice, concentrate or powder. For orange nectars, a minimum of 50% juice content applies in the EU. Moreover, the fruit juice content has to be declared on the package. Sugar and honey addition is allowed up to 20% of final weight. Sugar may be replaced by sweeteners for low-energy fruit nectars.
Nectars (or fruit juice drinks) can be seen as a less expensive substitute for 100% juice. They are frequently bought in larger packages (750 ml and higher) by less affluent consumers.
Low-energy nectars appeal to consumers who want the benefits of fruit juice but would like to reduce their calorie intake. Their increased popularity accords with the awareness that high-energy beverages may contribute significantly to a consumer's calorie intake.
10.4.2
 Still fruit drinks
While nectars can be seen as an alternative to 100% juice, still fruit drinks are more of an alternative to carbonated soft drinks. Often high in sugar and low in juice content, still fruit drinks are frequently sold in smaller packages (200-300 ml) for "on-the-go" consumption, but larger family-size packages of 2 litres (64 fluid oz) are also common. Many still drink products have a "kids" image since many of these products are directly targeted at children, but some products with a premium profile aimed at adults are out there.
There is little specific regulation of still fruit drinks, but many countries demand that the juice content be stated. Some countries have minimum juice content requirements (for example 5%) for fruit drinks. In the UK, the manufacturer may not imply that a product is a fruit drink if it does not meet the required juice content level – unless the suffix "-ade" is linked to the fruit name (such as lemonade) or the fruit name is followed by the word "flavour" (such as "orange flavour drink"). In Switzerland, manufacturers are not allowed to use pictures of fruit on fruit drink packages.
Recent product development in fortified fruit drinks with a high juice content (20% and more) and added vitamin blends, such as A-C-E, has raised the health profile of fruit drinks. With a lower energy content than 100% fruit juices, these beverages are aimed at promoting health at a reduced calorie intake.
10.4.3
 Low-sugar juices
In recent years "low sugar juices" have entered the market. These juice beverages are based on NFC but contain less sugar. The sugar content is reduced by up to 50% either by removing part of the sugar (by filtration of the juice) or by diluting the juice with water. A sweetener, commonly stevia, is added to a level that corresponds to the juice's typical sweetness.